Recent Posts
1
For
Saturday
- June 23, 2018 !
https://youtu.be/chlwAJbfr8c
2
« Last post by StormNine on Today at 07:39:09 PM »
Tornado Watch for the AL border counties. Supercells are possible along the remnant boundary. A cluster of storms in NW AL looks to get going soon.
3
« Last post by Adam on Today at 05:09:19 PM »
NWS Huntsville found EF-2 damage in Cullman County, AL from the tornado yesterday. Another tornado occurred in Jackson County, AL but I do not think they have surveyed yet. Weak supercells have developed in NW Alabama once again this evening for the second day in a row.

Meanwhile, Lawrence County, TN took a hit from straight line winds for the second day in a row. The saturated soils probably had some impact, but that MCS produced damage all along southern TN.
4
« Last post by Vols1 on Today at 04:56:54 PM »
Looks like a watch is possible coming up soon
5
The radar looks so promising for rain here. Idk what the hpc is seeing because no models show rain north of 40 really but hpc has the bulk of the rain north of 40.
6
That cluster has rode the southern counties the whole length of the state from west to east, producing warnings all today. I wonder how far off it is from being considered a derecho.
7
« Last post by dwagner88 on Today at 01:25:12 PM »
That was quite a feisty storm. An inch of rain fell in 10 minutes. It was probably below severe limits though. No hail, maybe 40 mph winds.
8
« Last post by harlequin on Today at 08:40:38 AM »
Power is out across a large part of south Memphis/Collierville/Germantown.
9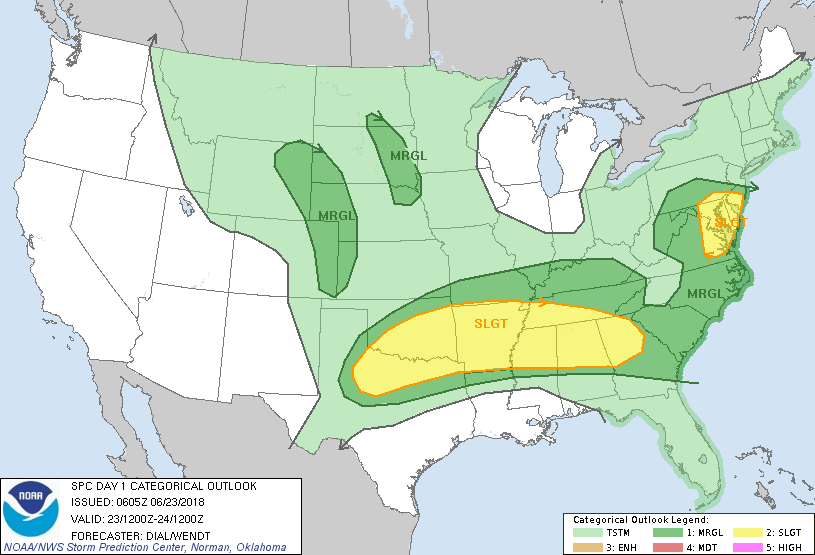 ...Lower Mississippi Valley through Southeast States....

MCS may still be in progress over the lower MS Valley region and
most likely over AR. It remains uncertain whether this activity will
be severe, but remnant MCV and outflow boundaries accompanying the
MCS will provide a focus for additional development during the day.
The downstream atmosphere will likely become moderately unstable
with up to 2500 J/kg MLCAPE. A belt of stronger winds aloft will
accompany the MCV/shortwave trough, and storms will likely
reintensify during the afternoon. The environment appears supportive
of swaths of damaging wind through the afternoon into the early
evening.
Sent from my iPhone using Tapatalk
10
For Friday - June 22, 2018 !
https://youtu.be/46gw_9zCU9E